Date posted: Apr 2021
Best Commercial Property Management Software UK
Cordatus' CEO Tom Laidlaw calls it the
"best system for asset management"
he had ever seen. Discover
WebTerrier
, property asset management software for the bigger picture.
Find out why Web Terrier is one of the UK's leading property asset management tools
Explore its genesis, using the experiences of property and asset managers to refine its features
Discover its potential to benefit commercial tenants and agents, as well as landlords and asset managers
Discover how asset management companies are using Web Terrier to "bring the information alive"
Explore how easy it is to bring the property asset management software to your business
There's an inescapable truth about property portfolios: they never, ever start big. Whether your current commercial holdings amount to £2 million or £2 billion, there was once a point where the value was far less, and the number of properties on the spreadsheet was one. And it's easy to manage a portfolio of one.
Yet one becomes two. Two becomes 15 or 20, then 100. Before you know it, the portfolio has outgrown the spreadsheet's usefulness. Which leads us to a second inescapable truth: no landlord or asset management company ever invested in property management software until long after the point at which it probably should have. Which explains why, right now, most continue to put up with the basic spreadsheet or accounts management package.
Yet whilst Sage or QuickBooks may be perfectly adept at ensuring the invoices are issued each month or each quarter, there's far more information hiding in every lease than the term and rent. With the right tools, occupiers, agents, asset managers and landlords can use that information to get a clear picture of not just the next few months, but the next few years. And that can have a profound effect on everything from strategic development to triggering the break clause at the right time.
Which is where WebTerrier comes in.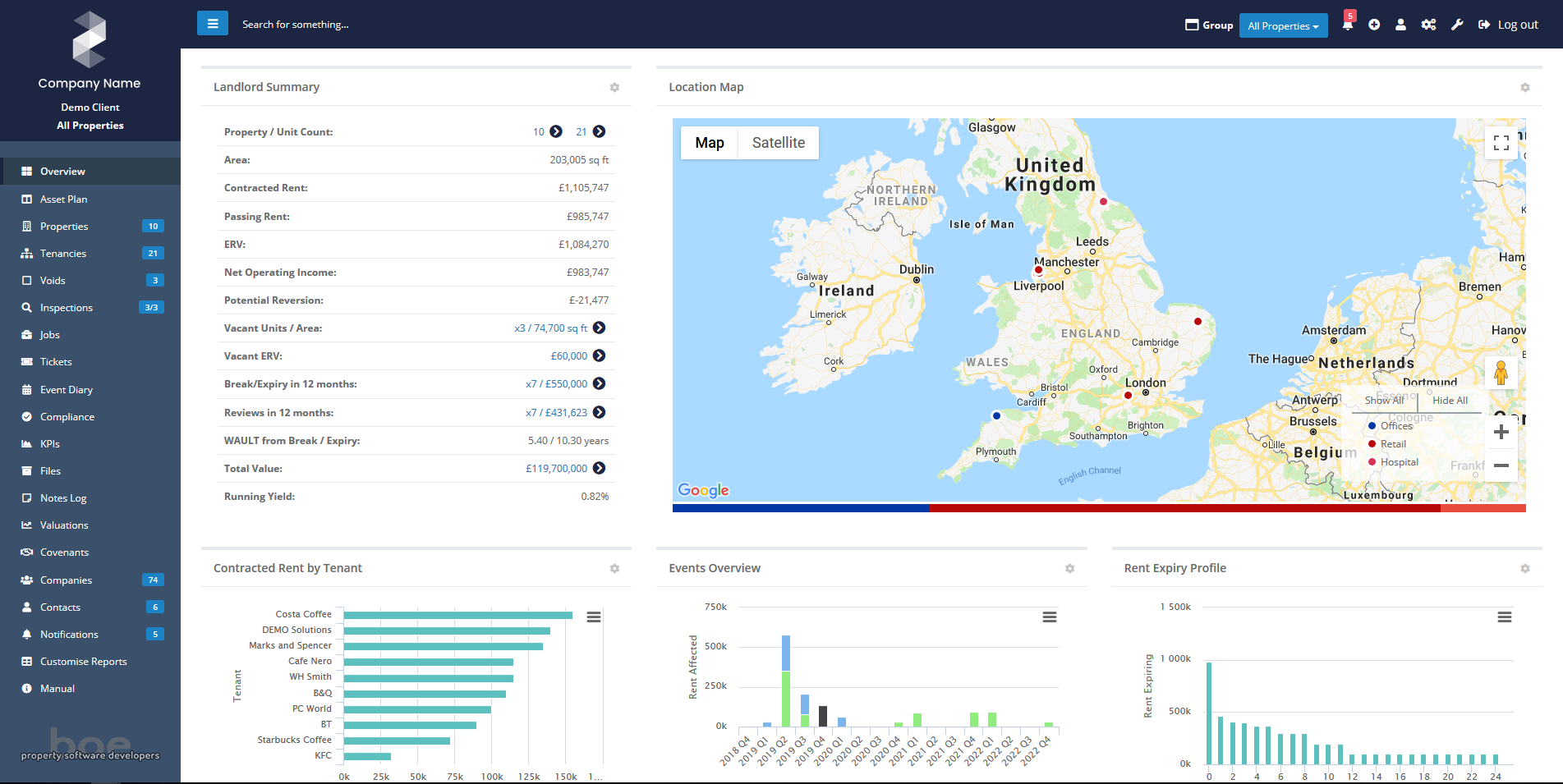 Creating WebTerrier
1995 was something of a Wild West period for property software developers. With the technology in its infancy and no product enjoying dominance, small, independent development companies had the opportunity to forge something new for an industry that was still getting to grips with basic databases.
So it was that BOE co-founder Richard Stevens found himself working with London property company Helical to create a database that would enable the business to manage its portfolio of property.
Refreshingly, it's a relationship that continues to this day. In the intervening 23 years, BOE has developed and refined and updated the Helical system countless times, yet there remain parts of that original 1995 version that are still (just about) recognisable.
Around 10 years ago, BOE was introduced to JLL, an asset management company which looks after a major fund of industrial estates with a total value in the billions. Much of the information required by JLL was similar to that required by Helical - albeit on an even larger scale - but being an asset manager rather than a landlord (and therefore being required to report to clients about the performance of their portfolio), the company required greater detail surrounding tenant interactions.
Working with these and its other clients, many of them leading names in the commercial property management sector, BOE built a wealth of in-depth understanding of what asset management software in the UK needs to deliver. And it was at this point, with numerous similar yet tailored desk-based systems in operation across its client base, that the Norwich-based company saw an opportunity for a cloud based asset management system. Rather than creating bespoke software for each client, the company realised it could take the common, core functions that each client found most valuable and repurpose them to service a much broader range of clients, from relatively smaller operators to those with billion+ portfolios.
Developed in partnership
This was the start of WebTerrier, a name chosen because it was both a record of private land holdings and reflected the committed, inquisitive nature of the breed of dog. The system was developed very much in partnership with BOE's clients, with many additional features suggested by existing users.
"Our clients might ask us for a specific tool – a way of recording tenant surveys, for example,"
explains Richard.
"Or they might wish to record more rent review information and ask us for some more fields to enable them to do that."
"The development of WebTerrier has been driven by client expectations, and as they have grown more confident in the system and have discovered the extra things it can do, they have been able to suggest additional features they would like to see."
One specific feature that has developed as a direct result of client experience with the system is the ability to track vacant space.
"Any industrial estate will have a number of vacant units,"
Richard observes.
"Asset managers and landlords need to know that these units are being marketed effectively, and that the agents are on top of their game in terms of making sure they're not empty for a long period, because keeping these units empty costs money."
"What's great is that, by working with clients including one of the biggest asset management teams in the country, we know we are producing products the industry wants, products that have broader application. And for the clients who help us by feeding us information that helps us develop WebTerrier's features, they are the first to benefit from new tools."

Applications for landlords, asset managers and commercial tenants
In commercial property, landlords and tenants are concerned with the bottom line. Landlords want to maximise the money coming in and minimise expenditure. Occupiers are increasingly concerned about the total cost of their lease, because unless you have an understanding of your obligations towards, for example, the service charge, the insurances, the rates and the utility bills, you really don't have a full understanding of what a lease will cost.
Web Terrier provides all parties with a big, 360° degree view of their assets, costs, incomes and liabilities. Taking just a small sample of features, the system can:
Detail rents, rateable values, insurance costs and more for each property in a portfolio
Highlight and diarise upcoming rent reviews
Keep track of lease expiration dates
Log all tenant/landlord interactions, and actions resulting from those interactions
Record all landlord details (handy for asset managers or occupiers working with assets held by multiple landlords)
Log vacant units
Store historical leases
Log service providers for each property – so if, for example, there's a late night emergency there's no delay finding the security providers
Store photos of each property within a portfolio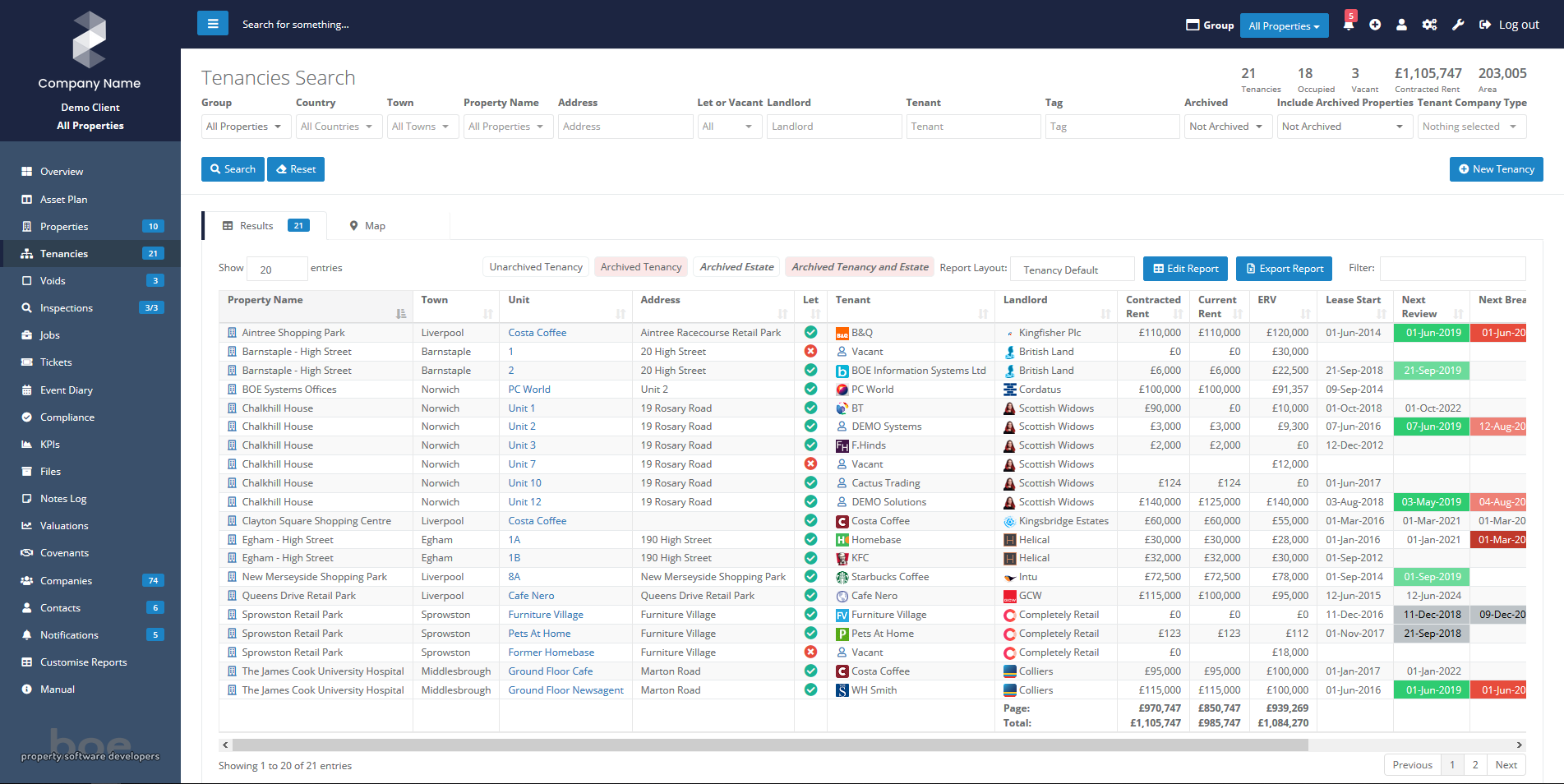 Break clauses – WebTerrier in action
WebTerrier can be a vast trove of easily findable information about a property portfolio. But how do you practically put that information to work?
One simple example of a tool that benefits landlords and occupiers alike is the break clause feature.
Leases have changed. In the 'old days' a commercial lease might be granted for 25 years, but today 5 or 10 years is typical. That places far more pressure on all parties to remain aware of the key dates in their lease.
If you are a retailer with perhaps 100+ stores in your portfolio, keeping track of when each lease is due for expiry/renewal is, of course, vital. That's also true of the break clause. If your landlord has placed a break clause at the midway point in a ten year lease, it's essential that you know when that point is drawing near so you can activate the break during the notice period.
In deciding whether to trigger that break clause, you will want to know what the store is costing you in terms of rates, insurances etc so you can establish whether there is better/cheaper on offer elsewhere. You might want to compare costs with other units with similar profiles within your portfolio. You may simply want to escape a lease in an area that has become less viable in the past few years. Web Terrier places upcoming break clauses front and centre of the application dashboard, so you never miss a break.
On the other side of the lease, break clauses enable a landlord to escape an unprofitable lease in areas that are enjoying a purple patch. They help landlords manage a shift in strategy flexibly. They ensure asset managers can maximise returns by leveraging the opportunities placed in the lease. But that can only happen if the landlord knows when those breaks will occur. WebTerrier ensures that all the pivotal points in a lease are flagged, from breaks to expiry to rent reviews - so no party misses opportunities or is trapped with a costly lease they don't want.
Built for asset managers, not accountants
Many of the landlord property management software packages on the market are accountancy led.
Often, and certainly in the past, that invoicing and accountancy element has been enough. But such systems have rarely been strong at providing the bigger picture. They are specifically focused on numbers and dates. In contrast, Richard and his team recognised the need for something which could be more helpful in terms of getting a rounded view of the portfolio to support strategic thinking.
WebTerrier enables landlords to look at the buildings in their portfolio and see much further than the next invoicing date. If, for example, you could plan refurbishment activities to coincide with the expiration of existing tenancies, could you bring in more revenue from primary tenants? Would invoking break clauses enable you to improve your tenant mix? Such questions could never be asked of traditional accounts-based systems, but WebTerrier enables commercial property owners to ask not simply 'what is this property generating?' but 'why have we got this property? Where does it fit with our overall strategy? How can we generate more from it? What are the steps we need to take to make that happen? And how do we best time those interventions?'
You don't get that sort of insight from basic numbers on a spreadsheet.
Glenstone Property PLC – a case study
When WebTerrier's Richard Stevens first met Glenstone, the company had grown in a piecemeal way, as so many UK property management companies do. The portfolio had perhaps 120 stores on its books - a parade of shops here, a high street store there - and as each new property was acquired it became a new line on a spreadsheet.
But lines on spreadsheets quickly become unwieldy as methods of asset management and before long Glenstone was finding it difficult to see the wood for the trees.
Their system simply didn't give them the view they needed of their assets. It didn't clearly show, for example, the tenant mix, their (over)reliance on one sector or another, how much rent was coming in from retail rather than offices, or how much of their stock was retail-based rather than primary.
The company needed to be able to take a step back and look at its assets with clarity. The business had a strategy, but the existing system wasn't helping to establish how (or whether) the existing assets fit with that strategy.
WebTerrier now gives Glenstone that insight. When the company merged with a much larger fund, more than trebling the size of the portfolio, maintaining a coherent strategy would have been impossible without a tool that could divide the offices from the retail and industrial, or the primary assets from the secondary ones.
"You need to be able to see each part of your portfolio in isolation to understand how it fits with the wider strategy,"
says Glenstone's Chairman Chris Powell.
"That's frequently not easy, especially as property data can be quite boring, but I love the way Web Terrier brings the information alive."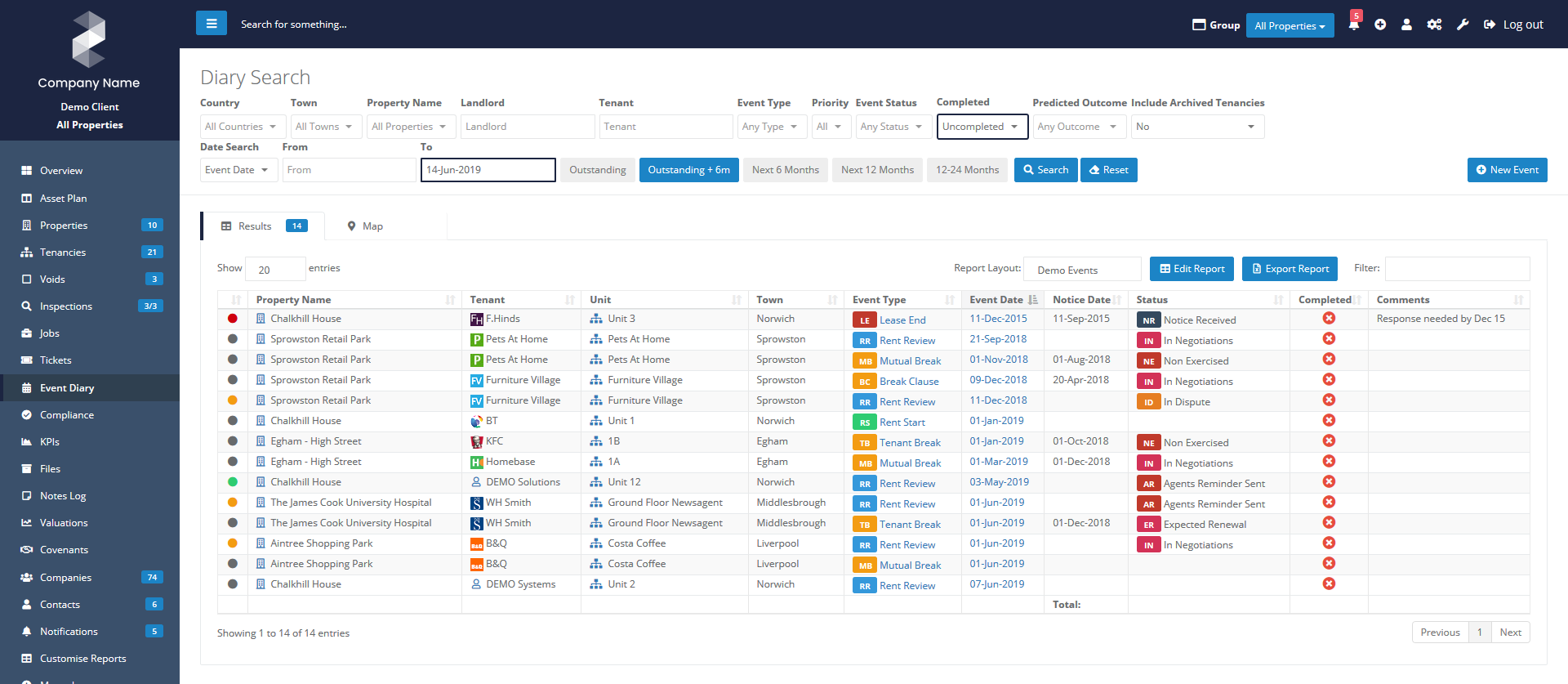 Growing with WebTerrier
In any lease, the information that is most immediately pertinent will typically be how much you need to pay and for how long, so lease terms and rents are likely to be the information that finds its way onto the system first.
It's after that that WebTerrier users realise this property management software gives UK landlords and occupiers far greater scope to benefit by adding more detail.
What are your obligations regarding repairs? Can tenants sublet? Can they transfer the lease and if so do they need landlord permission? What are the rateable values for each unit? What does the energy performance certificate say? Who are the essential contacts for the day to day management, security, marketing or repair of the property?
Add this information to WebTerrier and the benefits stretch far beyond having all the relevant information in one place (although that's certainly a benefit too). You save time in finding the details you need. You spot opportunities, risks and synergies far more easily. And you create strategy with all the relevant information at your fingertips, rather than settling on a plan only to realise later that the leases in your portfolio are likely to obstruct and frustrate that plan.
It's this facet of WebTerrier that leads Glenstone to say that the business is 'growing into' the system. The benefits are immediate, but time and experience with the system keeps revealing more benefits.
Up and running in a day
With any technology, there is a fear that tempers the potential. Fear that you'll lose time while the system is integrated. Fear that you'll have to learn a new way of completing tasks. Fear that for all the things it can do, there will always be tasks where the 'computer says no'.
Yet, assuming you already operate some form of database and can hand over the core details in the morning, Web Terrier can be up and running by the afternoon. It's white label, so it can carry your own branding and logo. And crucially, asset managers and landlords have played a pivotal role in WebTerrier's evolution – so each clients' typical experience is one of gradually discovering just how much this asset management software can do, not what it can't.
The best asset management software in the UK
Tom Laidlaw, CEO of Cordatus called WebTerrier
"The best system for asset management I've ever seen – at a fraction of the price of other systems which do much less."
Neil Hinds, Property Director for high street jeweller F Hinds said:
"Web Terrier has quickly become an invaluable tool for managing our stores, both freeholds and leaseholds."
And 23 years after BOE first began developing software with them, John Inwood, Head of Asset Management at Helical says;
"We've worked with BOE for over twenty years, and their WebTerrier software is a key component of the management and monitoring of our investment portfolio."
To make it part of yours, find out more at
webterrier.co.uk
, stay in touch with the latest Web Terrier developments using the
LinkedIn showcase
, or contact us on 01603 293 001.